Back in September we had rumours and leaks about Nvidia cards reportedly supporting Variable Refresh Rate (VRR) or essentially G-Sync with FreeSync monitors on some updated drivers. Those reports were quickly put to bed, being called a "bug" and drivers since then have not supported it; business as usual. I was curious, wondering how long until it became official then. And in the last few days we've had our dreams become reality… perhaps even VRRR! Variable Refresh Rate Reality? Bad pun.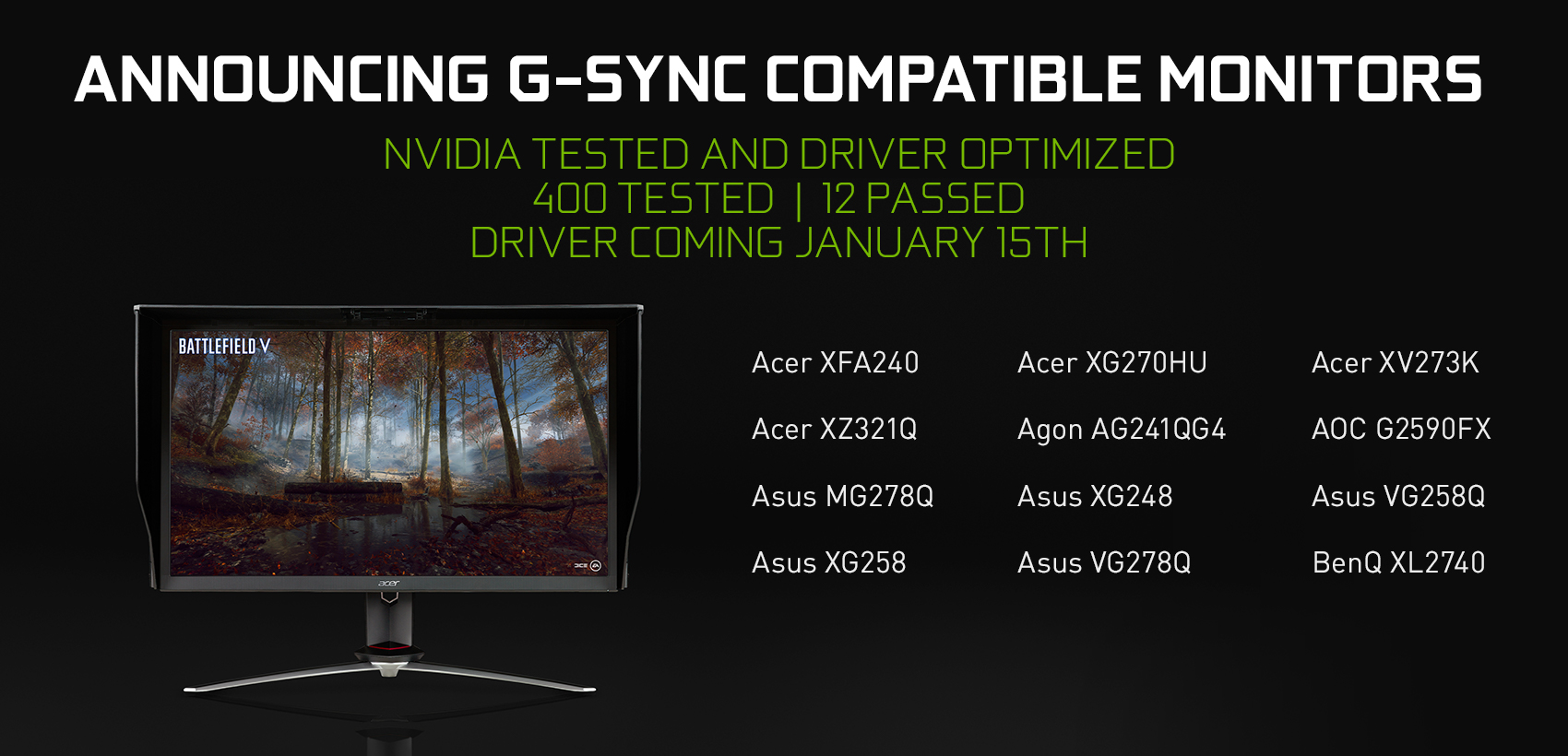 So far only 12 FreeSync monitors have been given the official "supported" branding by Nvidia out of the 100 they've tested with, with more to come. Reportedly even customers with monitors that have "failed" Nvidia's tests will be able to manually turn VRR on. Whether or not a monitor passes the tests relies on a few criteria. The monitor must not show:
Blanking
Pulsing
Flickering
Ghosting
Any other artifacts during VRR gaming
The driver that brings support for all the above will hit January 15th (or 16th since we're ahead in Australia), so you can try for yourself if you have a FreeSync monitor already.
Moving forward there will be new tiers of G-Sync. From lowest to highest ranking:
G-Sync Compatible – Adaptive Sync monitors with some limited testing
G-Sync – Current G-Sync monitors
G-Sync Ultimate – Current G-Sync HDR monitors
Why now, what took so long?
For those of you who may be wondering why Nvidia didn't make this change sooner, there are multiple reasons, and they may not all be simply that Nvidia is a "money hungry company". Instead, consider the following.
By having full control over G-Sync all this time, requiring Nvidia's approval before brands could utilise their tech/branding, Nvidia was able to ensure that the monitors advertising Nvidia's VRR functionality were of a high quality, without the above mentioned flaws that can occur on low-quality displays
There are quite a lot of low-quality displays that advertise being 120Hz, 144Hz, etc. but do so poorly, even with AMD graphics cards
With Nvidia's new approach to VRR, anyone with a capable monitor can now experience adaptive sync. If your monitor is of poor quality, you may witness artifacts during gameplay. Nvidia can stand behind their "told you so" and list of officially supported monitors
With the above points in mind, perhaps we can now see that Nvidia was interested in ensuring a high quality gaming experience for those who didn't want to spend hours figuring out which displays were of a high enough quality to support issue-free gaming. It was simply a case of "any monitor with the G-Sync functionality is the one I want". But now, anyone can get in on the VRR life, albeit with differing degrees of quality. No doubt that with time and driver updates the compatibility can and will improve, but for now this is where we're at. And we're plenty excited enough!