Another year just about wrapped up for us. With the year ending, it's common to look back at what made this year as great as it was. And what better way to do that than with some data and graphs!
While we sometimes think we know what the most popular choices would be since we build all the PCs right here ourselves, it's easy to forget or be swayed by what's been selling recently. The following graphs are true for all PCs sold by Evatech to Evatech customers.
2019's most popular graphics cards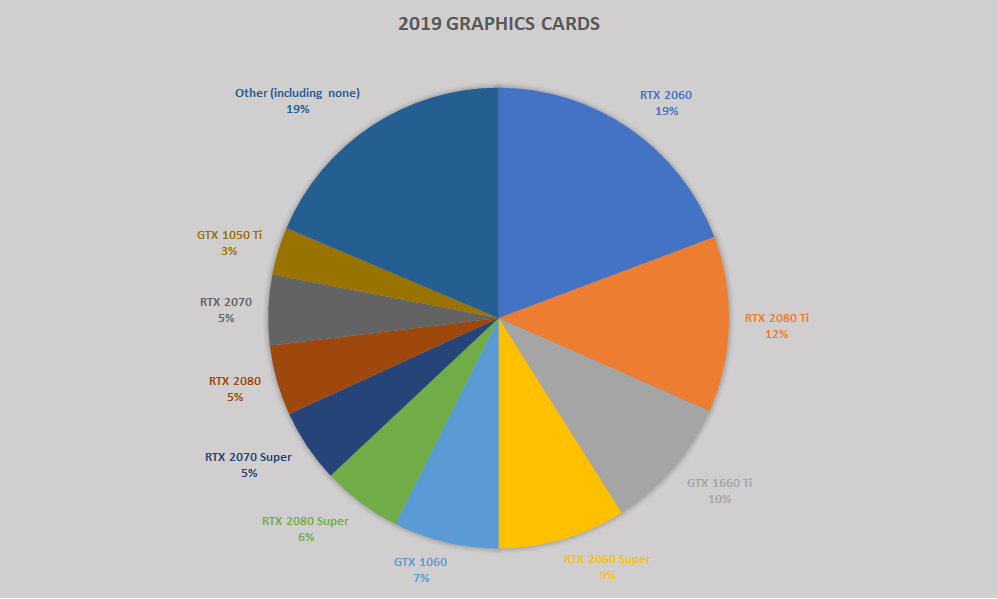 A note that each GPU's data is a combined total of OC editions, special order editions, liquid cooled variants, etc. to give a more full representation of each GPU.
Also worth keeping in mind that the Super cards only launched late July.
Since there are no AMD graphics cards here – it's pretty clear Nvidia is dominating the gaming scene right now. But what will 2020 have in store?
2019's most popular CPUs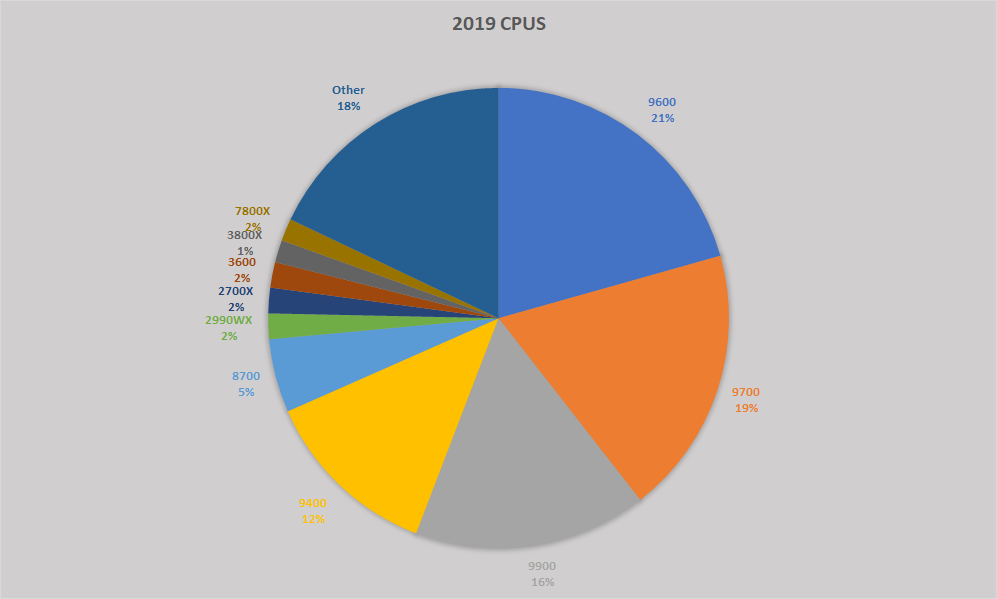 Similar to GPUs, all CPU variants are combined to show each CPU's data. eg: 9900, 9900KF, 9990K, and 9900KS are all under the "9900" umbrella.
i5 takes out the win for 2019 with i7 not far behind, and i9 (for those with larger budgets) in third place. We have some representation from AMD in the form of Threadripper (workstation/server use) as well as their consumer grade 2nd & 3rd gen Ryzen chips.
2019's most popular cases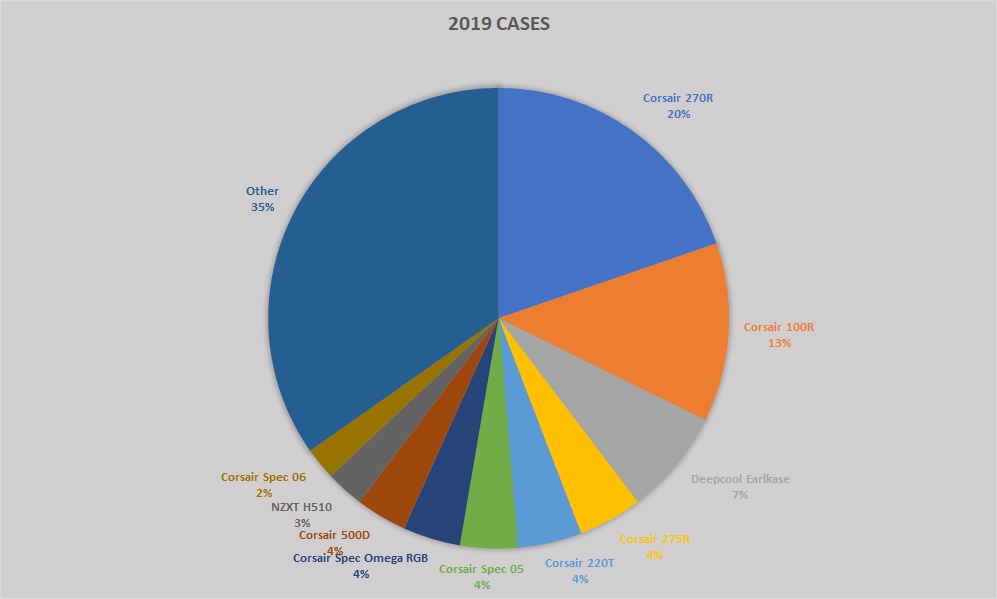 Again, combined case variants to represent each chassis to the fullest.
Unsurprisingly for all Evatech staff, the Corsair 270R chassis takes the crown. A massively popular case accounting for over 20% of all our builds for the year! A huge amount of cases we sell are Corsair, as you can quite easily make out from the graph. With the large amount of case options we offer, the spread is pretty large over a number of cases.
Worth noting here that the Deepcool Earlkase gets such a large slice of the pie thanks to being the case for our RTG Black/White systems.
This is why customisable PCs is so important
While we'd love to give each and every one of you an i7 or i9 with an RTX 2080 Ti (since that offers the best gaming experience right now) – we can plainly see that's not how this works. Everyone has different budgets, different tastes, and unique needs & wants.
Our average PC price tag this year was $3,300, up just $100 on last year's average. The most expensive single PC this year coming in at just over $13,000, up on 2018's $11,500 but still not beating 2017's $14,000 PC.
We'd hate to be one of those stores that just sells pre-built PCs with very little options to customise. We're truly custom. Check it out while we're on break, and place an order for when we're back in the office (January 2nd) replying to emails, taking phone calls, and processing orders: putting smiles on thousands more customers in 2020.