In what can be seen as an expansion on some of NVIDIA's pre-existing developments, such as ShadowPlay, Broadcast is set to be the next hit for NVIDIA-powered gaming PCs to enable gamers to present themselves as more highly polished streamers without the high setup costs.
The world of live streaming has expanded rapidly this year: Twitch has seen an 89% increase in the number of streamers, while viewership is up 56%. And mainstream celebrities from all walks of life are getting in on the action, too, from Terry Crews to Post Malone, to Logic.
With the GeForce RTX 20 Series, NVIDIA introduced an updated Encoder (NVENC) that delivers best-in-class video quality, while offloading work from the CPU to boost framerates in games. NVIDIA worked closely with top streaming apps such as OBS, Discord, Streamlabs, Twitch Studio, and XSplit to improve broadcast performance.
While these efforts have improved video encoding quality, this is only one piece of delivering a high quality broadcast — audio quality, camera and room setup are also key to viewers' enjoyment. Yet, not everyone has the luxury of a dedicated home studio, or can afford expensive cameras, microphones and greenscreens to improve their production quality.
With the launch of GeForce RTX 30 Series GPUs, NVIDIA's helping live streamers up their game even further with the new NVIDIA Broadcast app. It upgrades any room into a home broadcast studio by transforming standard webcams and microphones into smart devices through the power of AI.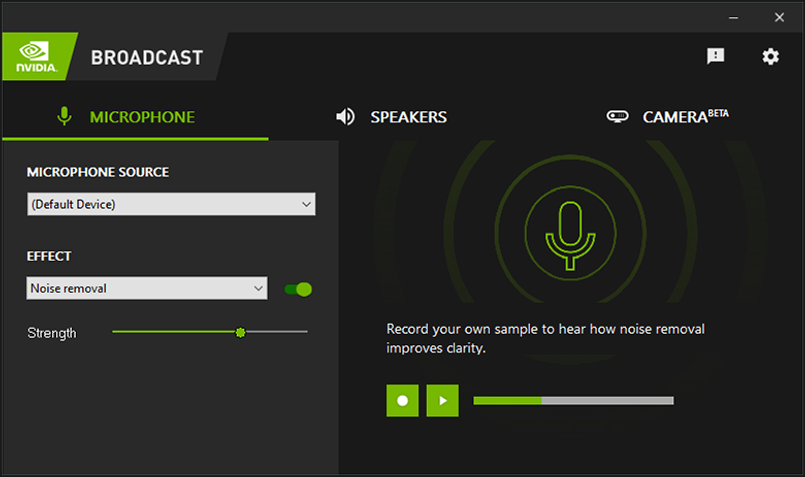 The Broadcast app offers three AI-powered features:
Noise Removal: remove background noise from your microphone feed – be it a dog barking or the doorbell ringing. The AI network can even be used on incoming audio feeds to mute that one keyboard-mashing friend who won't turn on push-to-talk.
Virtual Background: remove the background of your webcam feed and replace it with game footage, a replacement image, or even a subtle blur.
Auto Frame: zooms in on you and uses AI to track your head movements, keeping you at the center of the action even as you shift from side to side. It's like having your own cameraperson.
These features can be used beyond game broadcasting as well — from video conferencing at home with Zoom, to gaming with friends on Discord.
NVIDIA Broadcast is a universal plugin that works with most popular live streaming, voice chat and video conferencing apps. It's supported on any NVIDIA GeForce RTX, TITAN RTX, or Quadro RTX GPU, using their dedicated Tensor Core AI processors to help the app's AI networks run in real-time, right alongside your games.
NVIDIA Broadcast has been built for and with the community. NVIDIA received a ton of great feedback on Noise Removal from an early community beta of the feature codenamed RTX Voice. Thanks to the feedback, plus Tensor Core and software optimizations, NVIDIA has materially reduced the performance cost of the AI network while tripling the number of noise profiles supported.
For the new Virtual Background and Auto Frame camera features, NVIDIA is releasing them as beta so the community can test drive and provide feedback to help improve performance and quality.
For those of you that want to try out the AI noise removal capabilities but aren't ready to upgrade to an RTX GPU yet, NVIDIA have also patched RTX Voice with support for NVIDIA GeForce GTX GPUs. Though, of course, your mileage may vary on older cards.
NVIDIA's new GeForce RTX 30 Series GPUs combine the industry's best hardware encoder with NVIDIA Broadcast AI-accelerated voice and video effects to help you stream like a pro. Check back later this month to download the NVIDIA Broadcast app.
The above info courtesy of NVIDIA.
We think this will be huge for the hundreds of our customers who've told us this year that they're going to be dipping their toes into the world of streaming.
Evatech will of course be offering all of the NVIDIA RTX 30 series cards once they're released to the world with the RTX 3080 launching just next week (17th of September 2020) and the RTX 3090 following a week later (24th of September 2020). NVIDIA's RTX 3070 and RTX 3060 are expected in the weeks/months following, so stay tuned for those too. You'll be able to find the branded models via our Graphics Cards category, or in our customisable systems via our leading gaming PC platforms of the Intel 10th gen-powered Valkyrie X, and the AMD Ryzen 3000 series-powered Wraith.