The Fallout 76 B.E.T.A FAQ has gone live on the Bethesda website and there's a few surprises! Dubbed by the development team as the 'Break-it Early Test Application' the Fallout 76 BETA will consist of the entire game unlike many online game BETA's that lock players down to a very limited early segment of the game. Even more surprising is that progression will be brought forward in to the final release! This means if you just wait until the game is released in November without playing the BETA you'll already be behind.
How do I get in on the Fallout 76 BETA?
Well as usual it requires a pre-order of the final game to get access. Pre-orders can be made at falllout.bethesda.net or at participating retailers. Not all stores will be offering BETA access so check carefully before ordering.
Note that this time around the game will not be available for purchase on Steam with all digital and physical copies requiring registration on Bethesda's own 'Launcher'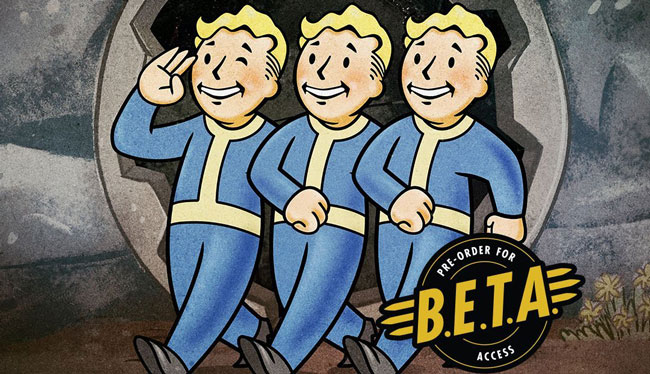 When does the Fallout 76 BETA start?
There is no set official date but the official FAQ says 'You'll be able to play our B.E.T.A. starting in October'. We assume it will be roughly a 30 day lead up to the official November 14th Launch
Disclaimer!
This will still be a BETA for a purely online only game. Expect server issues and bugs! Additionally, while it's the developers intentions to save player's BETA progress for the full launch, remember things don't always go as planned so be prepared for a slim chance of starting from the beginning come November 14th.
TLDR Summary;
Fallout 76 BETA is the full game
Progress (should) carry forward in to launch
BETA starts sometime October
Pre-order required for BETA access
No Steam version of the game
Full game launch set for November 14th
Shameless plug?!
You know it takes a little while to get a brand new custom built to order gaming PC delivered right? Don't leave it to the last minute! If you need a new gaming PC to be ready the moment the Fallout 76 BETA hits it's time to start thinking about placing an order. Checkout our store page at www.evatech.com.au and experience Australia's #1 online custom PC builder today.  You configure, we build, test and deliver!