X570 AND THE AMD 3200G | 3400G | 3600 | 3600X | 3700X | 3800X | 3900X
After more than a decade of Intel and it's Core series CPU ruling the market in gaming performance, AMD's third-gen Ryzen 3000 series looks to put AMD right back in the mix. If the expected leap forward in performance and power efficiency from the new 7nm process is true, it will break Intel's long lived lead in not only per core performance, but power efficiency, heat and core count.
The top of the range
Sitting among the top of the pack are the R7 and all new R9 series CPUs
3700X 8-Core 16-Thread @ 4.4GHz (R7)
3800X 8-Core 16-Thread @ 4.5GHz (R7)
3900X 12-Core 24-Thread @ 4.7GHz (R9)
Aimed to take on the i7 and i9's from Intel, they come packed with more cores and more threads. The expectation is that they will come close if not match Intel in their per-core performance and blow them out of the water in multi-threaded workloads that make use of the additional cores/threads.
The rest of the stack
Rounding out the full offering of third generation Ryzen CPUs are the R5's and R3's.
Of course these are aimed squarely (as the name would suggest) at the i3 and i5 line up from Intel offering a matching core count but double the thread-count. What's the G stand for? Graphics presumably? These are AMD's "APUs". Simply put they sport integrated graphics powered by Vega. Expected to plenty enough for basic gaming at 1080p. Yet unknown as to how well they will stand up against newer more demanding games. If budget gaming PCs are something you're interested in, keep an eye out for benchmarks and reviews come July 7th.
But wait, there's more!
Announced earlier in the week, launching later in the year is the true flagship model of the generation. A 16-core 32-thread R9 CPU dubbed the R9 3950X. Doubling the core count of the Intel i9 9900K. If you're a gamer we wouldn't recommend waiting for it. The in-game performance of the 16-core chip is unlikely to be much different than it's 12 core little brother at the same clock speeds. Games just simply don't utilize that many cores. However if your also in to multimedia production, video editing, data crunching or any workloads that will actually put those threads to work, maybe holding off a few more months is the way to go.

The Kicker [X570 Motherboards]
Dispute the CPUs being very competitively priced, to run it on it's intended chipset you might have to pay more than you hoped. The X570 range (replacing the X470) is expected to be in the realm of $100-150 more than their counterparts. Why? Well, being on the bleeding edge can be pricey and the all new 7nm chipset, being the first of it's kind to use PCI-E gen 4 the reason.
Later in the year the more budget friendly B550 chipset motherboards are expected. Until then however motherboard manufacturers are advising strongly against pairing the new R7 or R9 series CPUs with previous generation boards. There is good news for those with tighter budgets however. The R5 and R3 CPUs are expected to run perfectly fine on last-gen boards due to their more modest power draw and core count. That being said, we still don't know how much the B550 boards will cost and what features they will include.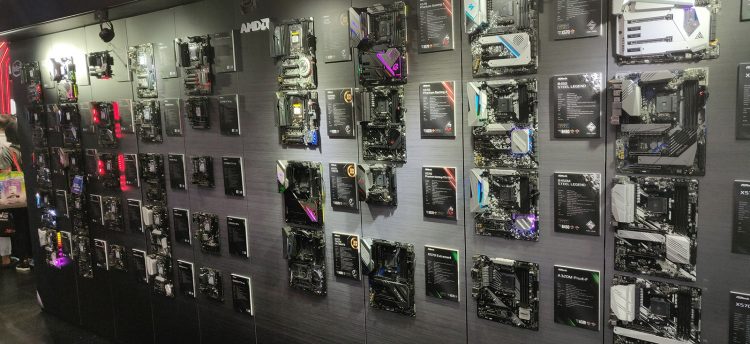 So should your next PC be a Ryzen 3rd Gen one?
With only a couple of short weeks away from launch, you won't need to wait long to find out. From the 'official' performance data shown by AMD (to be taken with a grain of salt) there is a lot to like. If you're purely gaming, the Intel line up may still be way to go at certain price points. Prices on both sides may be slightly adjusted in the weeks after launch as each fight for your dollar.
Once the dust settles, Intel may still hold the crown for purely top end in-game performance. But will it be enough? If the lead is narrow enough, the dominating multi-threaded performance for non-gaming work loads may be enough to sway a large percentage of buyers over to AMD for the first time in a very, very long time.
Where can you buy your very own Ryzen 3000 powered custom PC?
As usual, here at Evatech we're again proudly the first to offer the Ryzen 3000 in our custom PCs. Purchasable in store or online at www.evatech.com.au you can lock in your pre-order today and be among the first in the world to get their hands on a brand new PC powered by 3rd gen 7nm Ryzen and PCI-E 4.
Our world leading online custom PC builder is easy, powerful, always up to date and now fully mobile friendly! Check it out today, customize your next dream PC online and get it delivered to your doorstep anywhere in Australia.
Our team of seasoned PC hardware professionals build, setup and burn in test every PC as if it was their very own.
Shop today at www.evatech.com.au