For Those Who Want to Run Ahead
RT-AC68U supports combined dual-band data rates of up to 1900Mbps. 1300 Mbps 802.11ac at 5 GHz gives Gigabit wireless data rates, while Broadcom® TurboQAM™ technology super-charges 2.4 GHz 802.11n performance from 450 Mbps to 600 Mbps with compatible devices. 

Powered by a dual-core processor, the RT-AC68U eliminates the performance drops that plague other routers with busy networks. So even on the busiest home networks, HD video streaming is always smooth, the latency low for online gaming and VoIP calls, and file downloads are never interrupted. 

The RT-AC68U also features dual USB ports for file, printers and 3G/4G modems sharing and a USB 3.0 port for up to ten times faster data transfers than USB 2.0.
ExclusiveASUS AiCloud transforms your home networking into your personal cloud for easy streaming and sharing to smartphones, PCs, and tablets. Router-to-Router sync also makes it simple to sync files on USB-connected storage with other compatible ASUS routers for hassle-free sharing of large files with family and friends. 

The easy-to-use ASUSWRT graphical user interface unlocks the power of the RT-AC68U giving robust control to optimize your network for you. 30-second set-up and easy traffic management means even network newbies can enjoy its sophisticated features, while power users will love its IPv6 support, multiple wireless SSIDs and encrypted VPN access.


AiProtection with Trend Micro™ for advanced security
AiProtection, incorporating state-of-the-art, three-pronged security from Trend Micro™, provides advanced parental controls, blocks malicious addresses and intrusions for your PC or device, and alerts you if an infected device is connected. Potential weaknesses such as password strength and operating system vulnerabilities are also monitored at all times. Moreover, AiProtection even protects Wi-Fi devices without an installable security program such as smart TV, game console, and smart home devices, giving you peace of mind.


NVIDIA GameStream Ready
Your router is about to have a lot more fun. That's because it can now stream all your favorite PC games to the NVIDIA® SHIELD™ portable to play anywhere in the house using fast, ultra-reliable NVIDIA GameStream™ technology. ASUS routers deliver lag-free, high-performance game streaming from GeForce® GTX™=powered PCs or NVIDIA GRID™ cloud gaming systems.


Super-fast AC Wi-Fi with TurboQAM™ Wi-Fi acceleration
Powered by 5th generation Wi-Fi (5G Wi-Fi), the new 802.11ac chipset gives the RT-AC68U superfast Gigabit wireless speeds. What's more, RT-AC68U uses TurboQAM™ technology to upgrade 2.4G Wi-Fi even further to give you unprecedented speeds. At 2.4 GHz, it's 33% faster than generic wireless-N900 routers, reaching 600 Mbps, while on the 5 GHz band it blazes to 1300 Mbps - or triple 802.11n rates. That's 1900 Mbps of concurrent wireless power!



Powerful Whole-home Wi-Fi System.
The Way You Want.
In most cases, your RT-AC68U can deliver smooth, reliable Wi-Fi to every part of your home. But Wi-Fi coverage can be affected by many factors — room layout, construction materials, and even furnishings. ASUS AiMesh is an innovative new router feature that fixes these problems: it creates a whole-home Wi-Fi network using multiple ASUS routers. AiMesh is powerful, flexible and you can use a mix of ASUS router models — protecting your investment! AiMesh gives you time-saving central control, and seamless roaming capability. AiMesh is Wi-Fi you can rely on — for all your devices, all the time!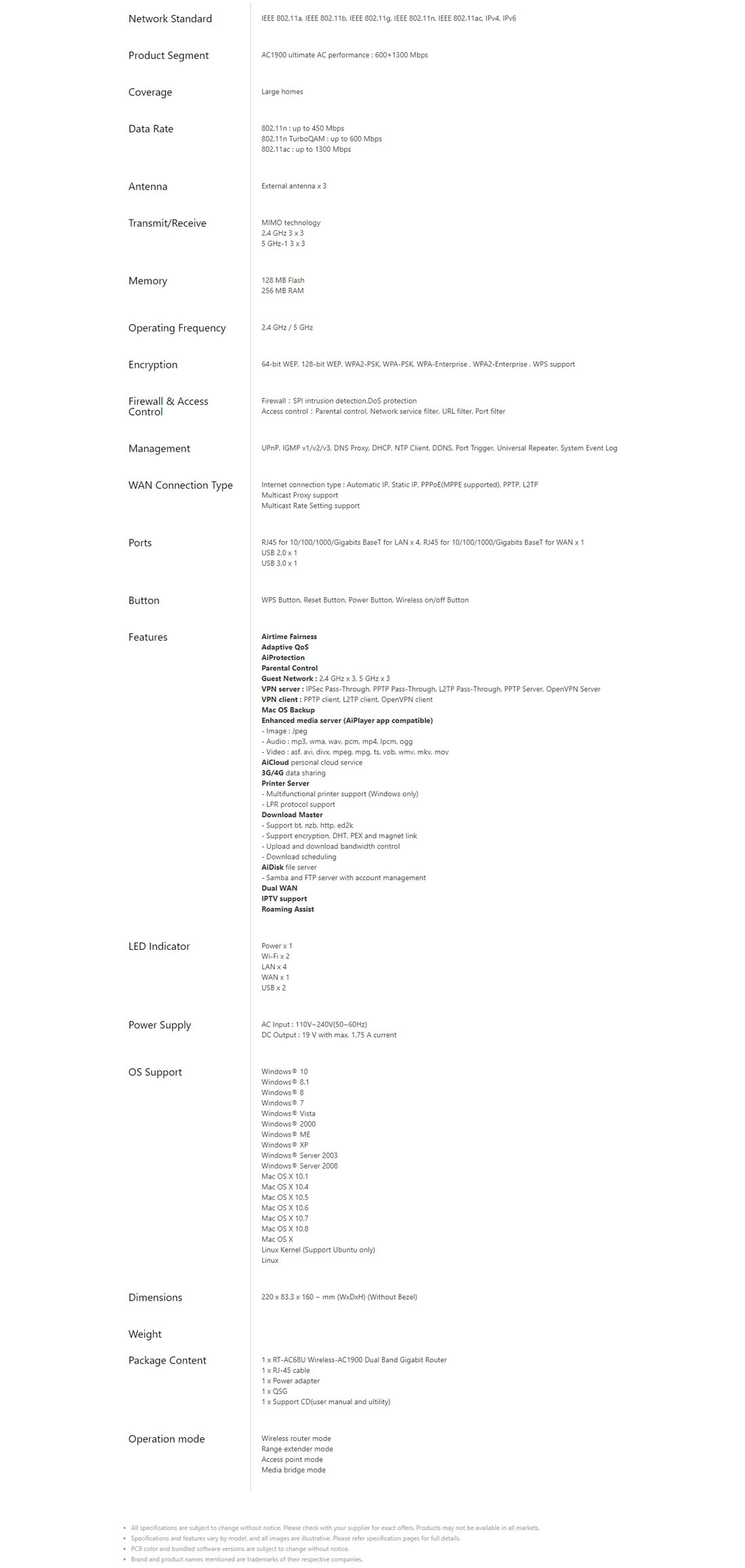 Images provided in good faith but are for illustrative purposes only. Actual product may differ as manufacturer may have revised the item since its original listing. If you need clarification before ordering please contact us PRIOR to ordering.